Shop Small Business Saturday November 24, 2012
Posted by Megan Brown on Monday, November 19, 2012 at 10:44 AM
By Megan Brown / November 19, 2012
Comment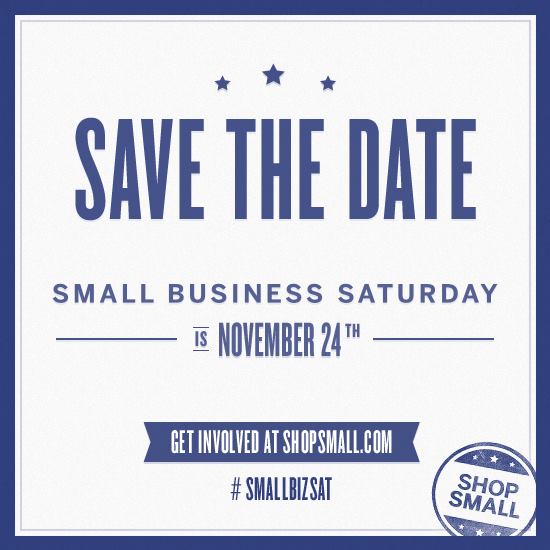 I'm back!! Did you miss me or did you even know that I was gone?
Last week was crazy busy with Feast on Equality but it was a HUGE success. The event was beautiful, everyone had a wonderful time and we were overwhelmed with gratitude toward how gracious our guests were. Mark my words, next year will be bigger and better!!
Thanksgiving is coming up and to most people, that only means one thing..... SHOPPING! Unlike most of those people, I'd rather focus on eating yummy food and enjoying the company of my family but somehow I always seemed to get suckered into going to at least one Black Friday event. While getting that great deal on a TV or buying that "must have" toy for a child is a personal victory, one company decided to put the focus somewhere else. In 2010, American Express started Small Business Saturday to help small businesses get more exposure during one of the biggest shopping weekends of the year. Last year, over 100 million people came out to shop at independently-owned small businesses on the day. Now, in its third year, American Express is predicting it will be even bigger.
Why shop local? If you haven't heard of Keep Louisville Weird, I'm not sure what rock you have been living under. Their initative is to keep the uniqueness of Louisville alive by supporting the local, one of a kind establishments that are essential to this great city. Independent local businesses employ an array of supporting services, circulating money in and strengthening the local economy. Dollars spent at community-based merchants create a multiplier effect. Studies have shown that for every $100 spent at a chain, $15 remains in the community while $45 remains when spent with home town businesses. As a consumer, you are a key part in helping small businesses thrive. By shopping or dining at a small business, you're showing your support for all the small communities around you. This means you could be helping local entrepreneurs offer more jobs, which in turn invigorate the economy.
Keep that in mind this weekend when you are out shopping. It is up to all of us to keep our community thriving and to keep Louisville the wonderful gem that it is.
---
Here's an idea… let's be friends!






Megan Brown, SEO Marketing Specialist. Learn more about Megan.