Retail Revival Plan Could Put Lots Of New Merchants On Fourth Street
Posted by Megan Brown on Friday, October 19, 2012 at 9:50 AM
By Megan Brown / October 19, 2012
Comment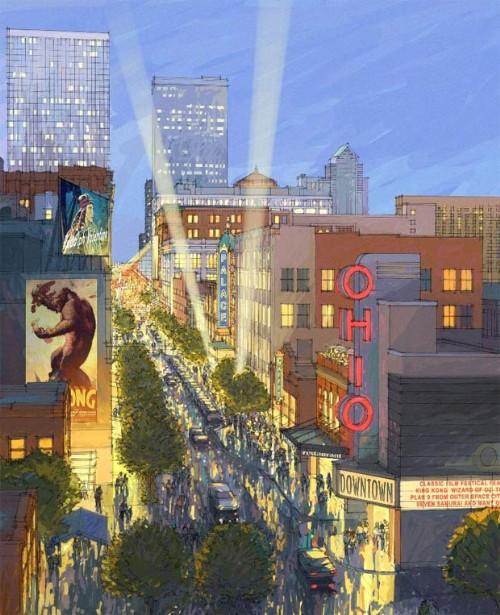 This could be the new 4th street.
Louisville is steppin up their game, y'all!
Pay attention because according to Insider Louisville, this is going to be a story you will be hearing more and more about.
Although this isn't a new plan, it is the first sign of life from the South Fourth Street Retail District, a 14-month-old initiative to jump start retail between Fourth Street Live on the North and Theater Square on the south. The 500 block, strategically located between the Seelbach Hotel and the Brown Hotel (two huge tourism and convention hubs), receives very little foot traffic and has been overlooked since the first malls opened in the 1960's.
To revive South Fourth Street retail, Rick Hill, owner of Village Solutions Inc., sees an anchor strategy/small-shop strategy that calls for four major tenants pulling in traffic to dozens of small, locally owned shops. The merchandising study recommends for the four anchors:
1 – A rooftop cinema/restaurant "that's a white tablecloth affair"
2 – A creative artist cooperative.
3 – An entertainment venue.
4 – A recording studio.
Ok, sounds like a legit plan. It also sounds like something very much needed considering there are very few places to buy anything.... unless you count the CVS on 4th Street Live. With that being said, apparently Rick Hill is no longer working with the Louisville Downtown Development Corp. but, there is still hope. Multiple retailers and real estate sources are praising Alan DeLisle, executive director of LDDC, saying, "If anyone can succeed, I think it's (DeLisle) … to execute that vision."
What do you think? Are you for or against this plan? Do you think it will actually happen? I'd love to hear some of your thoughts!!
Here's an idea… let's be friends!