How Black Friday Has Changed & 2012 Statistics
Posted by Megan Brown on Monday, November 26, 2012 at 10:38 AM
By Megan Brown / November 26, 2012
Comment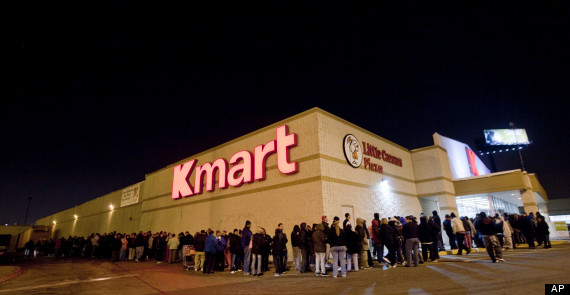 Another Black Friday has come and gone, thankfully. While I find humor in the whole ordeal, there are some that take saving money to an entirely different level. From fist fights over places in line to guns being drawn over a parking space to a 14 year old being robbed by 5 older men in the parking lot of a Bed Bath and Beyond, it seems like people show no mercy when it comes to saving a few bucks. With safety being my main concern, I think others had the same idea too. "2012 marked a banner year on a number of fronts with mobile traffic growing by more than 67 percent and Thanksgiving turning out to be a huge shopping day for consumers as they responded to retailers' early Black Friday promotions," IBM said in its 2012 Holiday Benchmark report. Check out some of the other statistics I've gathered and see how (or if) you fall into them.
• Consumer Spending Increases: Online sales on Thanksgiving grew by 17.4 percent followed by Black Friday where sales increased 20.7 percent over last year.
• Mobile Shopping: Mobile purchases soared with 24 percent of consumers using a mobile device to visit a retailer's site, up from 14.3 percent in 2011. Mobile sales exceeded 16 percent, up from 9.8 percent in 2011.
• The iPad Factor: The iPad generated more traffic than any other tablet or smart phone, reaching nearly 10 percent of online shopping. This was followed by iPhone at 8.7 percent and Android 5.5 percent. The iPad dominated tablet traffic at 88.3 percent followed by the Barnes and Noble Nook at 3.1 percent, Amazon Kindle at 2.4 percent and the Samsung Galaxy at 1.8 percent.
• Multiscreen Shopping: Consumers shopped in store, online and on mobile devices simultaneously to get the best bargains. Overall 58 percent of consumers used smartphones compared to 41 percent who used tablets to surf for bargains on Black Friday.
• The Savvy shopper: While consumers spent more overall, they shopped with greater frequency to take advantage of retailer deals and free shipping. This led to a drop in average order value by 4.7 percent to $181.22. In addition, the average number of items per order decreased 12 percent to 5.6.
• Social Media Sentiment Index: Shoppers expressed positive consumer sentiment on promotions, shipping and convenience as well as the retailers themselves at a three to one ratio.
• Social Sales: Shoppers referred from Social Networks such as Facebook, Twitter, LinkedIn and YouTube generated .34 percent of all online sales on Black Friday, a decrease of more than 35 percent from 2011.
Holiday sales growth was led by several industries which include:
• Department stores continued to offer compelling deals and promotions that drove sales to grow by 16.8 percent over Black Friday 2011.
• Health and Beauty sales increased 11 percent year over year with consumers once again choosing to pamper themselves this holiday.
• Home goods maintained its momentum this year, reporting a 28.2 percent increase in sales from Black Friday 2011.
• Apparel sales were also strong this holiday with Black Friday numbers showing an increase of 17.5 percent over 2011.
I'm not sure how that sounds to you but to me, it sounds like the economy has been stimulated and people aren't holding back on what they are spending money on. I also think online shopping is going to become bigger each year... I don't think doorbuster deals will ever fade but I have a feeling retailers are going to have to become more creative with their ways to get people in the door.
So, did you participate in Black Friday shopping? Did you score any good deals? I'd love to hear about them!
---
Here's an idea… let's be friends!






Megan Brown, SEO Marketing Specialist. Learn more about Megan.