Going Green, An Ongoing Series
Posted by Megan Brown on Wednesday, October 31, 2012 at 10:04 AM
By Megan Brown / October 31, 2012
Comment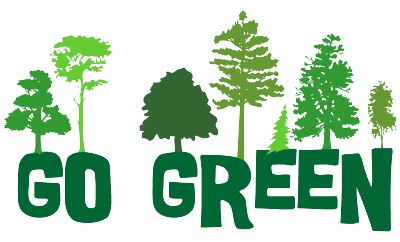 In keeping up with our Going Green Series, I wanted to find a way to stay within the Halloween theme. This year, a record 170 million Americans plan to celebrate Halloween, with the average family of four spending $330 on decorations, costumes and candy, according to Savers and the National Retail Federation. (unless you live on Halloween Street. I think it's possible that some families on that street spend a little more) Thinking and then thinking some more, I have found some suggestions on how to not give Mother Nature a scare this year!
Choose reusable decor
Make sure when you are shopping for decorations (no matter what the season may be) that you go for quality and be mindful of where it came from. Purchasing something that can be used over and over again not only saves you money but it also cuts down on trash. Take, for example, this adorable Halloween banner from local Etsy shop, WhiteCellar. It's fun, reusable and since it is local, it is cutting down on the carbon footprint it will leave behind.
What about getting rid of store bought decorations altogether? Use seasonal items like pumpkins, gourds, even the beautiful leaves that adorne our lovely city. Take a look at all of the fun possibilites!
Hand out organic treats
We all know that the best part of Halloween is the candy. Be a little more friendly to those growing Supermans and Disney Princesses and opt for handing out organic candy. You set a good example by showing there are alternatives to processed candy but won't risk the chance of getting your house T.P-ed.
DIY Halloween Costume
In making your costume, not only will you be the talk of any Halloween party you attend, you can feel safe in knowing you will be one of a kind! Sure, it might be easier to go out and purchase a costume-in-a-bag but it's not budget friendly... and more than likely, you won't be reusing that costume. Check out this article for lots of DIY costumes for kids AND adults!
If you must buy your costume, consider donating it to your local theatre after you are finished with it. (because we all know that you won't be using that Marge Simpson wig again)
Get Crafty!
Instead of recycling those empty candy wrappers (you are recycling them, right?!) why not save them up and make something that can be used again and again. From barretts to bags, there are some crafty people out there and lucky for us they have shown us exactly what to do.
If you aren't the crafty type, still try to save up the wrappers. Check out TerraCycle. You send in your wrappers and they transform them into new products.
You may think that being only one person won't make a difference but every little bit counts. And, there may be people who are watching and could follow your example. Do you have any green Halloween tips? I'd love to hear about them!!
---
Here's an idea… let's be friends!






Megan Brown, SEO Marketing Specialist. Learn more about Megan.