cycLOUvia October 14, 2012
Posted by Megan Brown on Monday, October 8, 2012 at 11:25 AM
By Megan Brown / October 8, 2012
1 Comment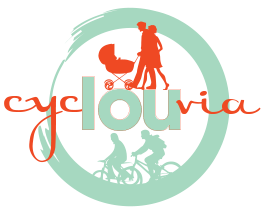 cycLOUvia... huh? If you are like me, the first time I heard about this I wasn't sure if I was pronoucing it correctly let alone to even know what I was talking about. After doing a little research, I found that this movment is being modeled after the Ciclovia program in Bogotá, Colombia, where for 30 years, citizens have enjoyed weekly car-free streets. cycLOUvia builds on momentum in cities from coast to coast and across the globe to connect communities around our temporarily car-free, shared public space.
Still a little confused? It's ok, I was too. Basically what's going to happen is, Bardstown Road is going to be closed between Broadway and Douglass Loop from 2pm-6pm, October 14 2012. During that time, you will be able to roam and wonder as you please in the middle of Bardstown Road without worring about dodging cars. All business will carry on with normal business hours and some will even have specials going on as well.
cycLOUvia is your opportunity to experience Louisville as you never have before, by walking, cycling, skateboarding, or dancing along a three-mile car-free stretch of Bardstown Road.
For more information check out the Facebook event page they have created.